Publish Identify

Jharkhand JSSC Municipal Service Recruitment 2023 For 921 Post

Publish Date

Post Date: 31 May 2023

Post Update Date: 31 May 2023

Publish Description

Jharkhand Municipal Service Recruitment 2023: Jharkhand Staff Selection Commission (JSSC) are invited to apply online application form for Jharkhand Municipal Service Combined Competitive Examination 2023 (JMSCCE-2023). Other information related to this recruitment like selection procedure, pay scale, age limit, syllabus information is available in the notification (Jharkhand JSSC Municipal Service Recruitment 2023).

Those Candidate Who Are Interested in Jharkhand JSSC Nagar Palika Vacancy 2023 & Complete all Eligibility Criteria and want to appear in this recruitment can apply online from 20 June 2023 to 19 July 2023. Read the full notification before apply online.

JSSC Advt No. : 07/2023
Jharkhand Staff Selection Commission (JSSC)
Jharkhand Municipal Service Combined Competitive Examination 2023 (JMSCCE-2023)
IMPORTANT DATES
Notification Issued: 31/05/2023
Application Begin: 20/06/2023

Last Date Apply Online:

19/07/2023

Last Date Pay Fee: 21/07/2023
Last Date For Upload Photo/Sign: 23/07/2023
Errors/Correction Date: 25 to 27 July 2023
OMR Exam Date: Last Week of September 2023
Admit Card Out: Before Exam
JMSCCE-2023 APPLICATION FEE
Gen/OBC: Rs. 100/-
SC/ST: Rs. 50/-

Pay the Exam Fee Via Online Debit Card, Credit Card, Net (Internet) Banking Mode.

NOTE:

विज्ञापन संख्या-09/2022 की प्रतियोगिता परीक्षा में सम्मिलित (जिनके द्वारा आवेदन समर्पित करने की प्रक्रिया को पूर्ण किया गया था) आवेदकों को इस विज्ञापन की शर्तों यथा शैक्षणिक योग्यता, निर्धारित आयु सीमा तथा अन्य अर्हताओं के अंतर्गत परीक्षा शुल्क के भुगतान के साथ पुनः आवेदन देना अनिवार्य होगा। संबंधित आवेदकों को विज्ञापन संख्या -09/2022 के परीक्षा शुल्क की राशि उनके अनुरोध पर वापस करने की कार्रवाई की जायेगी। इस संबंध में आयोग के वेबसाईट www.jssc.nic.in पर अलग से सूचना प्रकाशित होगी।
JSSC Municipal Service Recruitment 2023 AGE LIMIT
Minimum Age: 21 Years

Maximum Age For UR/EWS: 35 Years

Maximum Age For OBC: 37/38 Years

Maximum Age For SC/ST: 40 Years

Age Limit as on 01/08/2023


Age Relaxation as Per Rules.
Jharkhand Nagar Palika Vacancy 2023 ELIGIBILITY
Candidates should passed in Graduation and Post graduation Degree or its equivalent from government recognized institutions or University in relevant post.


For More Details Read Notification (Page no-5).
Vacancy Details Total Post : 921

Post Name – Jharkhand Nagar Palika Vacancy 2023

Category
Total

UR

372

OBC – I

73

OBC – II

55

EWS

89

SC

92

ST

240
Post Wise Vacancy Details For Jharkhand Municipal Service 2023 Recruitment

Post Name

UR

OBC-I

OBC-II

EWS

SC

ST

Total

Garden Superintendent

(गार्डन अधीक्षक)

05

01

01

01

01

03

12

 Veterinary Officer 

(भेटनरी ऑफिसर)

05

01

00

00

01

03

10

Sanitary and Food Inspector

(सेनेटरी एंड फूड इंस्पेक्टर)

10

02

01

02

03

06

24

Sanitary Supervisor

(सेनेटरी सुपरवाइजर)

259

51

39

64

64

168

645

Revenue Inspector

(राजस्व निरीक्षक)

74

15

11

18

18

48

184

Legal Assistant  

(विधि सहायक)

19

03

03

04

05

12

46
Total
372
73
55
89
92
240
921
IMPORTANT LINKS

Apply Online

Link Active on 20/06/2023

Download Information Brochure

Download Advertisement

Official Website

Join Telegram Channel 

Download Android App
How to Apply for Jharkhand Municipal Vacancy 2023
Visit the official website

www.jssc.nic.in

and find the Important Links section on the page.

Locate and click on the "New Registration Click Here" link.

You will be redirected to a new page where you will find the "Apply Online" link for the JMSCCE-2023.

Click on the "Apply Online" link.

Read the notification carefully to understand the eligibility criteria, application process, and other important details.

Ensure that you meet the required eligibility criteria for the vacancy.

If you are eligible, locate the "Apply Online" or "Online Application" link.

Click on the provided link to access the online application form.

Fill in the required personal, educational, and other details accurately and completely.

Upload any necessary documents, such as your photograph, signature, or supporting certificates, as specified in the application form.

Review the filled-in application form to ensure all the information provided is correct.

Pay the application fee, if applicable, through the specified mode of payment.

Submit the application form online.

After submitting the application, take a printout or download a copy of the application form for future reference.

Keep track of any updates or notifications regarding the selection process or further stages of the recruitment.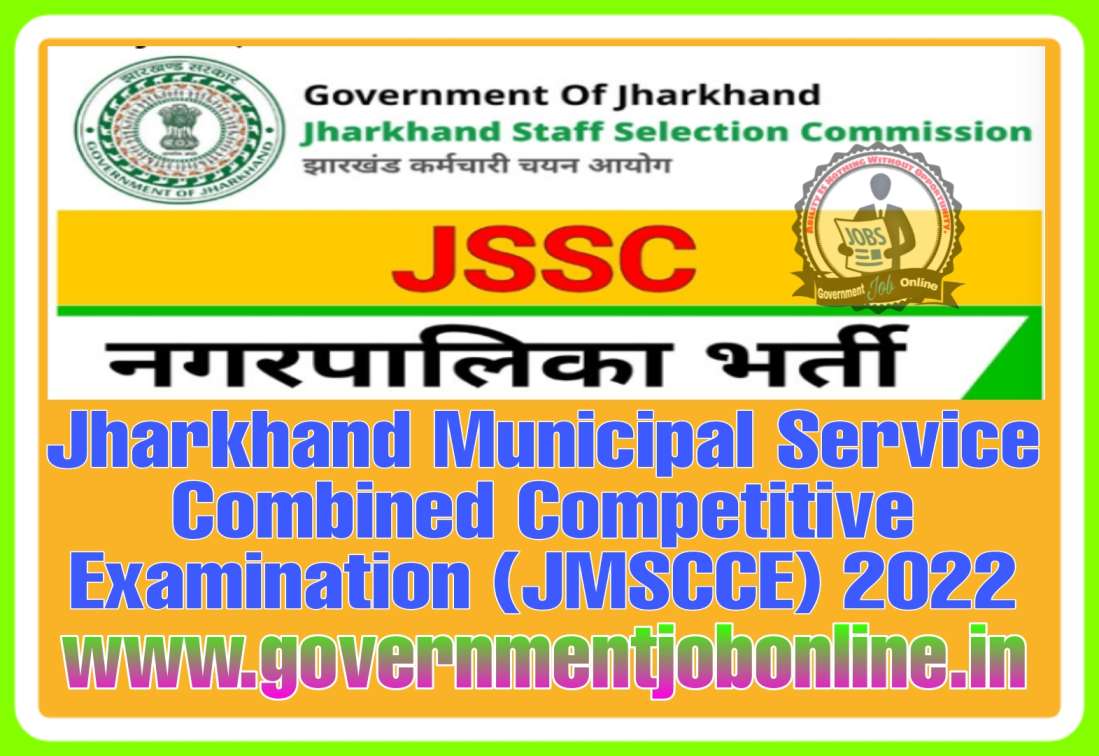 1.

What is JSSC?

Introduction

The Jharkhand Staff Selection Commission(J.S.S.C.) has been constituted by the Jharkhand Staff Selection Commission Act 2008 (Jharkhand Act 16, 2008) which was published vide Gazette notification no. 829 dt. 6 December 2008 of Jharkhand Government. The Act was amended by Jharkhand Act 03,2011 and Jharkhand Act 19,2011; published vide Gazette notification nos. 153 dt. 24 February 2011 and 687 dt. 11 October 2011 respectively.

Initially The Office of the Jharkhand Staff Selection Commission was located at Dhurwa, Ranchi, till 01-08-2016. Since the accommodation fell short of the actual requirements of the Commission, its office was shifted to Kalinagar, Chaay Bagan, Namkum, Ranchi, Jharkhand – 834010 of which foundation stone was laid by then Hon'ble Chief Minister, Shri Hemant Soren and Later was inaugurated on 02.08.2016 by Hon'ble Chief Minsiter, Shri Raghuvar Das.

2.

JSSC Contact Address?

Kalinagar, Chai Bagan,
Namkum, Ranchi,
Jharkhand - 834010
E-mail Id of Commission: Jharkhand_ssc[at]rediffmail[dot]com
Telephone No. for Any Enquiry: +91-9264431721
Web-site of Commission: http://www.jssc.nic.in

3.

How many posts are there in Jharkhand JSSC Municipal Service Recruitment 2023 Vacancy?

There are Total 921 Posts

4.

How to apply Jharkhand Nagar Palika Vacancy 2023 Online Form ?

First open JSSC official website
Go to Recruitment / Career Section
Read notification / Advertisement
Then Click apply online button
Fill all necessary details
If required pay Application Fees
Click on the submit button and take the print out for future reference.
Disclaimer :
Government Job Online Website does not have any Connection with the Government and does not belongs to or Represents any Government Entity. The 
Examination Results / Marks printed on this web site is usually not one to be a legal document for searching for immediate information for the examination. While all efforts have been made to make the Information available on this Website as Authentic as possible. We are not responsible for any Inadvertent Error / Mistake that may have crept in the Examination Results / Marks being published in this Website nad for any loss to anybody or anything caused by any Shortcoming, Defect or Inaccuracy of the Information on this Website.