Publish Identify

UPPSC OTR 2023 One Time Registration Online Form

Publish Date

Post Date: 05 January 2023

Post Update Date: 07 January 2023

Publish Description

UPPSC One Time Registration 2023: Uttar Pradesh Public Service Commission (UPPSC) are invited to apply online application form for UPPSC One Time Registration OTR Registration 2023. With the introduction of this facility, the candidate will be freed from uploading his personal details / document / photo / signature again and again (UPPSC OTR 2023 One Time Registration Online Form).

IF You Want Registration For UPPSC OTR 2023 & Complete all Eligibility Criteria and want to appear in Uttar Pradesh Public Service Commission in future can Registration UPPSC OTR from 03 January 2023. Read the full notification before apply online.

UPPSC OTR 2023 | UPPSC One Time Registration 2023
Uttar Pradesh Public Service Commission (UPPSC)
UPPSC OTR 2023 One Time Registration Online Form
IMPORTANT DATES
Registration Begin: 03/01/2023

Last Date Apply Online:

NA
APPLICATION FEE
Gen/OBC: Rs.0/-
SC/ST: Rs. 0/-
All Category Female: Rs. 0/-

No Registration Fee For All Candidates.
UPPSC OTR AGE LIMIT
No Age Limit in Uttar Pradesh Public Service Commission One Time Registration OTR Registration.
UPPSC OTR 2023 ELIGIBILITY
One time registration is necessary only for those who want to appear in any UPPSC Recruitment in future. With the help of this registration, the candidate will save a lot of time while applying.
UPPSC One Time Registration 2023 Benefits / Details
Hon'ble Chief Minister of Uttar Pradesh Yogi Adityanath Ji has inaugurated this UPPSC OTR service on 03 January 2023.
UPPSC One Time Registration (OTR) system started from 03/01/2023 in the Uttar Pradesh Public Service Commission will provide a lot of convenience to the candidates. Through

otr.pariksha.nic.in

now the candidate will not have to give his personal details again and again for various selection tests conducted by the commission.

The UPPSC applicant needs to upload his/her photo and signature only once. Facility to modify and update personal particulars, photograph and signature will be available at all times.

After the completion of the registration, the candidate details and documents will be validated by the commission and whose information is verified, their OTR number / registration information will be issued.
IMPORTANT LINKS

Apply Online

Download Notification

Official Website

Join Telegram Channel 

Download Android App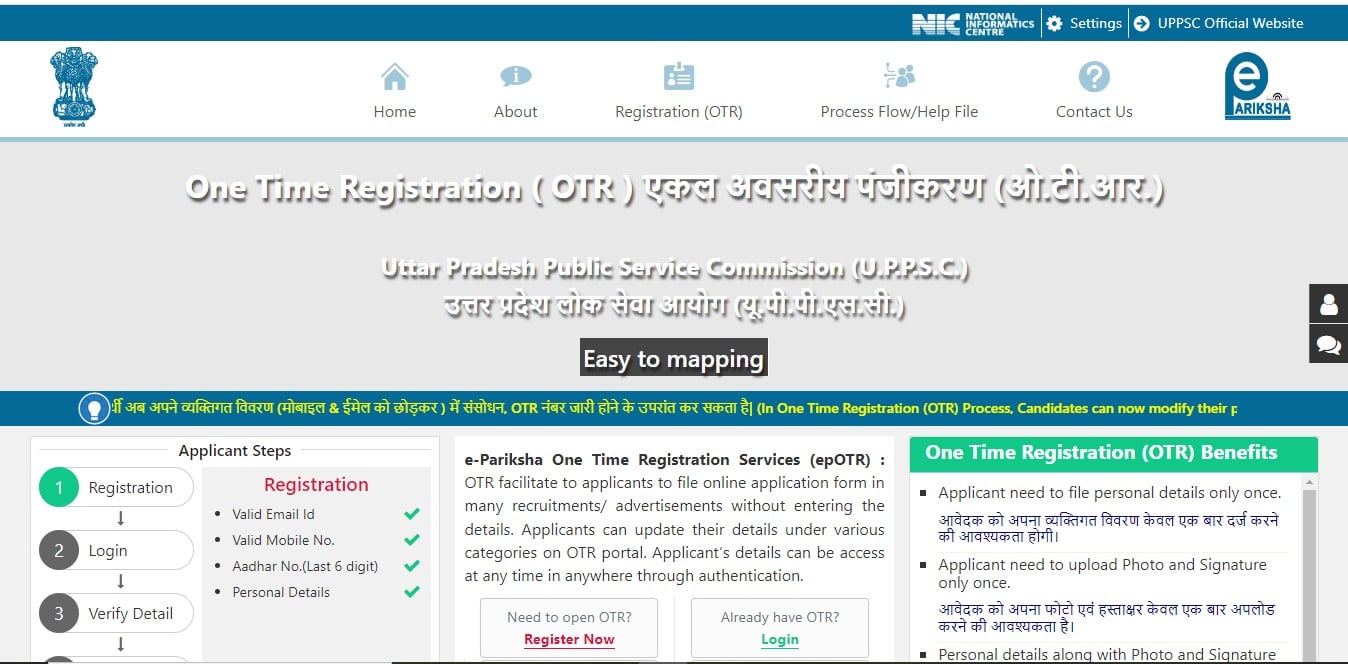 Disclaimer :
Government Job Online Website does not have any Connection with the Government and does not belongs to or Represents any Government Entity. The 
Examination Results / Marks printed on this web site is usually not one to be a legal document for searching for immediate information for the examination. While all efforts have been made to make the Information available on this Website as Authentic as possible. We are not responsible for any Inadvertent Error / Mistake that may have crept in the Examination Results / Marks being published in this Website nad for any loss to anybody or anything caused by any Shortcoming, Defect or Inaccuracy of the Information on this Website.