Publish Identify

RRB Railway Group D Result with Cutoff 2022, Score Card/Marks

Publish Date

Post Date: 22 December 2022

Post Update Date: 27 December 2022

Publish Description

Railway Group D Result 2022: Railway Recruitment Board (RRB) Various Zone Are Released Result One by One Region Candidate Check Your Result Given Below Link. The List of Candidates shortlisted for Physical Efficiency Test (PET) based on their performance in the Computer Based Test (CBT) conducted during the period 17/08/2022 to 11/10/2022 is published on the official websites of respective RRBs.  (Railway RRB Group D Exam Results 2022)

All Candidates can also view their Percentile Score, Normalized Marks and Short-listing Status for PET by logging in through the link provided on the official websites of RRBs duly entering their Registration Number and Date of Birth in DDMMYYYY format and link will be made live on or before 27/12/2022 (18:00 Hrs.) and will be available up to 01/01/2023 (23:55 Hrs.)

Advt. No. RRC- 01/2019
Railway Recruitment Board (RRB)
RRC CEN 01/2019 – Group D Exam Result with Cutoff 2022
IMPORTANT DATES
Railway Group D Result Declared: 22/12/2022

Cutoff Marks Available:

22/12/2022

NOTE: Result Link will be made live on or before 27/12/2022 (18:00 Hrs.) and will be available up to 01/01/2023 (23:55 Hrs.)
Score Card/Marks Available: 27/12/2022
Exam Conducted By
Railway Recruitment Board RRB All Zone Are Conducted Group D CEN 01/2019 Exam in CBT Online Mode.
Vacancy Details Total Post : 103769
More Details

Click Here

All Level 6 Exam Appeared Candidates Can Check Result, Marks, Cutoff, Score Card
How To Check Railway Group D Result 2022
The candidates can check their RRB Group D Result by following the below-mentioned steps:-

Step 1- Visit the official website of the Railway Recruitment Board.

Step 2- Click on the link provided for RRB Group D Result 2022.

Step 3: Select the respective RRB Region All PDF Result File Given in This Page.

Step 4: RRB Group D Result PDF will appear on the screen.

Step 5: Download RRB Group D Result and search for your roll number in the merit list.
IMPORTANT LINKS

Login to Check Score Card / Marks

Download Notice Explaining Percentile Based Normalisation 

Download Result Declared Notice

Check Vacancy Details

Official Website

Join Telegram Channel 

Download Android App
How To Check  Railway Group D Score Card
All Candidates can also view their Percentile Score, Normalized Marks and Short-listing Status for PET by logging in through thelink provided on the official websites of RRBs duly entering their Registration Number and Date of Birth in DDMMYYYY format and link will be made live on or before 27.12.2022 (18:00 Hrs.) and will be available up to 01.01.2023 (23:55 Hrs.)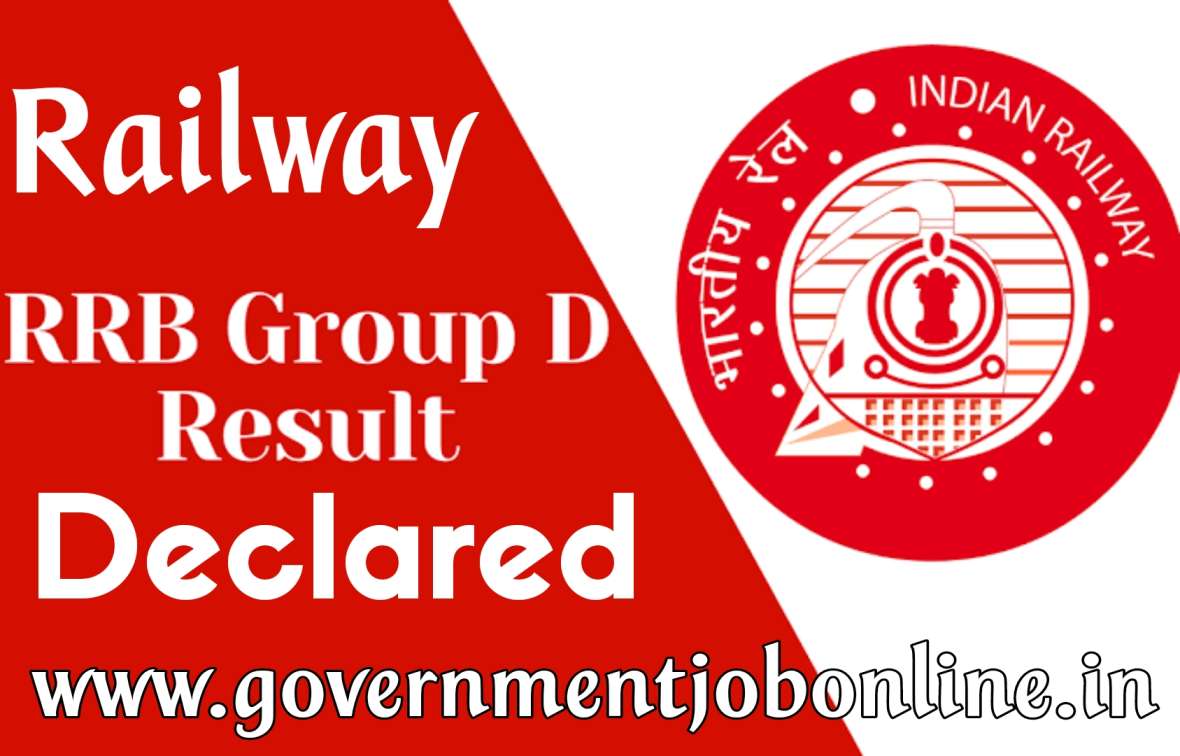 Disclaimer :
Government Job Online Website does not have any Connection with the Government and does not belongs to or Represents any Government Entity. The 
Examination Results / Marks printed on this web site is usually not one to be a legal document for searching for immediate information for the examination. While all efforts have been made to make the Information available on this Website as Authentic as possible. We are not responsible for any Inadvertent Error / Mistake that may have crept in the Examination Results / Marks being published in this Website nad for any loss to anybody or anything caused by any Shortcoming, Defect or Inaccuracy of the Information on this Website.