Publish Identify

Airforce Agniveer Intake 01/2024 Online Form

Publish Date

Post Date : 12 July 2022

Post Update Date : 27 July 2024

Publish Description

Agniveer Vayu Intake 01/2024: Indian Air Force are invited to apply online application form for Indian Airforce Agniveer Recruitment 2023 under Agneepath scheme. Any youth whose age limit is between 17.5 to 21 years & come from any state/city in India can apply AGNIVEER VAYU INTAKE 01/2024 Recruitment.

Those Candidate Who Are Interested in Indian Airforce Agniveers Agnipath Vayu Star Intake 01/2024 Vacancy & Complete all Eligibility Criteria and want to appear in this recruitment can apply online. Read the full notification before apply online.
Indian Air Force


Join Indian Airforce Agnipath Scheme 2023

IMPORTANT DATES

Application Start: 27/07/2023
Last Date Apply Online: 20/08/2023 upto 05 PM Only
Last Date Pay Exam Fee: 20/08/2023
Exam Date: 13/10/2023
Admit Card Out: Before Exam

APPLICATION FEE

Gen/OBC/EWS: 250/-
SC/ST: Rs. 250/-

Pay Exam Fee Via Debit Card/Credit Card/Net Banking Mode. Indian Airforce Agniveers Recruitment 2022.

AGE LIMIT

Minimum Age: 17.5 Years
Maximum Age: 21 Years
Age Limit Between – 27/06/2023 to 27/12/2006

Age Relaxation as Per Rules.
Airforce Agniveers Vayu Int 2023 Notification Eligibility Details
Science Subject Eligibility Details
10+2 Intermediate with Mathematics, Physics and English with Minimum 50% Marks. and 50% Marks in English. OR
03 Yrs Diploma in Engineering (Mechanical/ Electrical/ Electronics/ Automobile/ Computer Science/ Instrumentation Technology/ Information Technology) with Minimum 50% Marks and 50% Marks in English in Diploma Course. OR

02 Yrs Vocation Course with Non Vocational Subject Physics and Math from Any Recogized Board with 50% Marks Aggrgate and 50% Marks in English.

More Details Read the Noitification.
Other Then Science Subject Eligibility
10+2 Intermediate with Minimum 50% Marks Aggregate and 50% Marks in English. OR

02 Yrs Vocation Course with Minimum 50% Aggregate and 50% Marks in English.

More Details Read the Notification.
Agniveer Vayu Medical Standard
Height Minimum : 152.5 CMS
Chest Expansion : 5 CMS
Benefits of Agniveers Agnipath Scheme 2023

Years

In Hand

Monthly Package

30% Agniveer Corpus Fund

First

21,000/-

30,000/-

9,000/-

Second

23,100/-

33,000/-

9,900/-

Third

25,580/-

36,500/-

10,950/-

Fourth

28,000/-

40,000/-

12,000/-

Exit After 4 Year – Rs 11.71 Lakh as Seva Nidhi Package + Skill Gained Certificate.

Rs. 48 Lakh Life Insurance Cover.

Up to 25% will be enrolled in the regular cadre of the Armed Forces

Total Rs. 5.02 Lakh

Benefits of Indian Airforce Agniveer (Agnipath) Intake 01/2024:

Age Eligibility: Young individuals aged between 17.5 to 21 years can apply for the Agniveer (Agnipath) scheme.

Four-Year Service: Agniveer provides an opportunity for youth to serve in the armed forces for a period of four years, contributing to national security and defense.

Life Insurance Coverage (LIC): Agniveers are provided with a life insurance cover of Rs. 48 Lakhs for the entire duration of their engagement as Agniveers in the Indian Airforce. This ensures financial security for the duration of their service.

Skill Certificate: Upon completion of the engagement period, Agniveers are awarded a skill-set certificate by the Indian Air Force. This certificate recognizes the acquired skills and experience gained during their service.

Leave Benefits: Agniveers are entitled to annual leave of 30 days, along with sick leave as per medical advice. This allows them to take time off for personal and health-related reasons.

Yearly Benefits: The Agniveer (Agnipath) scheme offers yearly benefits, providing additional advantages and opportunities to the participants.

By participating in the Agniveer (Agnipath) Intake 01/2024 program, young individuals have the opportunity to serve their country, receive life insurance coverage, gain valuable skills, and enjoy various leave benefits.
Filling Agniveer Vayu Intake 01/2024 Form: Step-by-Step Guide
Agniveer Vayu Intake 01/2024 Recruitment 2024: Indian Airforce has released the notification for Agniveer Vayu Intake 01/2024 Recruitment. Candidates can apply online between 27th July 2024 to 17th August 2024.

Photo Instruction: Prepare a passport-size recent color photograph (taken not before June 2024) with a size between 10 KB to 50 KB. The photograph should be a front portrait in a light background, without any headgear except for Sikhs. The candidate must be holding a black slate in front of their chest, with their name and the date of the photograph clearly written on it in capital letters using white chalk.

Read the Notification: Before filling out the online application form for Agniveer Vayu Intake 01/2024 Recruitment, carefully read the entire notification to understand the important details and eligibility criteria.

Collect Required Documents: Ensure that you have collected all the necessary documents, including eligibility proofs, ID proof, address details, and basic details.

Prepare Scanned Documents: Get ready with scanned copies of documents required for the recruitment form, such as a recent photograph, signature, ID proof, etc. Make sure they meet the specified requirements.

Check Application Form Carefully: Before submitting the application form, review the preview and verify all the filled-in columns for accuracy and completeness.

Print the Final Submitted Form: After completing the application process, take a printout of the final submitted form for your reference and future correspondence.
By following these steps, you can successfully fill the Agniveer Vayu Intake 01/2024 Form. Make sure to read the notification, collect the necessary documents, and check the form thoroughly before submission.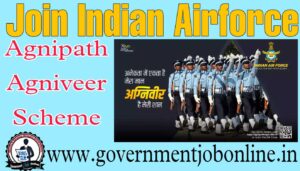 Disclaimer :
Government Job Online Website does not have any Connection with the Government and does not belongs to or Represents any Government Entity. The 
Examination Results / Marks printed on this web site is usually not one to be a legal document for searching for immediate information for the examination. While all efforts have been made to make the Information available on this Website as Authentic as possible. We are not responsible for any Inadvertent Error / Mistake that may have crept in the Examination Results / Marks being published in this Website nad for any loss to anybody or anything caused by any Shortcoming, Defect or Inaccuracy of the Information on this Website.