Publish Identify

NTA ICAR AIEEA 2022 Admission For UG, PG & Phd, Result

Publish Date

Post Date : 20 July 2022

Post Update Date : 02 October 2022

Publish Description

Indian Council of Agricultural Research [AIEEA] are invited to apply online Admission form for ICAR AIEEA UG/ PG/ PHd Admission 2022. Other information related to this Admission like selection procedure, Subject Details, age limit, syllabus information is available in the notification (NTA ICAR AIEEA 2022 Admission For UG, PG & Phd).

Those Candidate Who Are Interested in NTA ICAR AIEEA UG / PG / PHd Admission 2022 & Complete all Eligibility Criteria and want to appear in this recruitment can apply online from 20 July 2022 to 19 August 2022. Read the full notification before apply online.
National Testing Agency (NTA) | ICAR All India Entrance Examination 2022


ICAR AIEEA UG/ PG/ PHd Admission 2022

IMPORTANT DATES

Application Start: 20/07/2022
Last Date Apply Online: 19/08/2022 UP TO 05 PM

Last Date Pay Exam Fee: 19/08/2022

Correction Date: 19 to 23 Aug 2022

Exam Date UG Online: 13 to 15 Sep 2022
Exam Date PG/PHd : 20/09/2022
Admit Card Out: 10/09/2022

Answer Key Available : 22/09/2022

Result Out: 02/08/2022

EDUCATION QUALIFICATION

UG Course – Passed Intermediate (10+2) Exam.

PG Course – Bachelor Degree with One of every of The Related Subject or Equivalent.

PH.D Course – Master Degree (PG) in Related Subject.

APPLICATION FEE

Under Graduate UG Course

Gen- Rs.800/-
OBC/EWS – Rs.770/-
SC/ST/PH – Rs.400/-

Post Graduate PG Course

Gen- Rs.1150/-
OBC/EWS – Rs.1120/-
SC/ST/PH – Rs.570/-

JRF/SRF Courses

Gen- Rs.1850/-
OBC/EWS – Rs.1820/-
SC/ST/PH – Rs.920/-

Fee Mode

Pay Examination Fee Via Online/Offline Mode Only.

AGE LIMIT

UG Course – Min 16 Yrs

PG Course – Min 19 Yrs

PH.D Course – Min 20 Yrs

Age Limit as on 31/08/2022
Details of Course (NTA ICAR AIEEA 2022)
UG Course (AIEEA UG)
B.Sc in Agriculture/Horticulture/Forestry/Community Science/Sericulture.

B.F.Sc, Food Nutrition's and Dietetics

B.Tech in Agriculture Engineering/Dairy Technology/Bio Technology/Food Technology
PG Course (AIEEA PG)
Plant Biotechnology /Plant Science /Physical Science / Entomology and Nematology/Social Science/Statistical Science/Agronomy/ Horticulture / Forestry /Agriculture and Engineering/Water Science and Technology/Home Science/Veterinary Science/Animal Bio Technology/Animal Science/Fisheries Science /Dairy Science/Food Science Technology/Dairy Technology/Agri Business Management
PH.D Course (AICE-JRF/SRF PGS)
Crop Sciences I, II and III / Horticulture /Veterinary and Animal Science I, II and III / Dairy Science/Dairy Technology and Food Technology/Agriculture Engineering and Technology/Fishery Science/Home Science/Agriculture Economics and Agribusiness Management/Natural Science Management I, II/Agriculture Extension/Agriculture Statistics.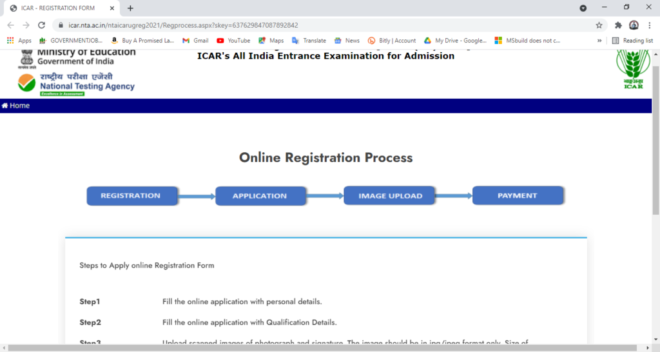 Disclaimer :
Government Job Online Website does not have any Connection with the Government and does not belongs to or Represents any Government Entity. The 
Examination Results / Marks printed on this web site is usually not one to be a legal document for searching for immediate information for the examination. While all efforts have been made to make the Information available on this Website as Authentic as possible. We are not responsible for any Inadvertent Error / Mistake that may have crept in the Examination Results / Marks being published in this Website nad for any loss to anybody or anything caused by any Shortcoming, Defect or Inaccuracy of the Information on this Website.