Publish Identify

Indian Navy MR 02/2023 Batch Online Form

Publish Date

Post Date: 19 May 2023

Post Update Date: 29 May 2023

Publish Description

Indian Navy MR 02/2023 Agniveer: Join Indian Navy (Nausena Bharti) are invited to apply online application form for Navy Agniveer MR 02/2023 Online Form for 100 Post. Other information related to this recruitment like selection procedure, pay scale, age limit, syllabus information is available in the notification ( Indian Navy Agniveer MR Recruitment 2023).

Those Candidate Who Are Interested in Sailor Entry Matric Recruit Agniveer MR 02/2023 Batch Recruitment & Complete all Eligibility Criteria and want to appear in this recruitment can apply online from 29 May 2023 to 15 June 2023. Read the full notification before apply online.

Navy MR 02/2023 Nov 2023 Batch Male / Female
Join Indian Navy (Nausena Bharti)
Join Indian Navy Agnipath Agniveer Scheme 2023
Navy Agniveer MR 02/2023 Batch Recruitment
IMPORTANT DATES
Application Begin: 29/05/2023

Last Date Apply Online:

15/06/2023

Last Date Pay Fee: 15/06/2023

Exam Date: Nortified Soon

Admit Card Out: Before Exam
Navy MR 02/2023 APPLICATION FEE
Gen/OBC/EWS: Rs. 550/-
SC/ST: Rs. 550/-

Pay the Exam Fee Via Online Debit Card, Credit Card, Net (Internet) Banking Mode.
Navy MR Vacancy 2023 AGE LIMIT
Born Between: 01 November 2002 to 30 April 2006 (Both dates inclusive)

Age as per Indian Navy (Nausena Bharti) Agniveers 02/2023 Batch Recruitment 2023 Rules.
Vacancy Details Total Post : 100

Male : 100 Post | Female : 20 Post

Post Name
Navy Agniveer MR ELIGIBILITY

Chef

Male & Female Both Are Eligible.

Passed Class 10th (High School) Exam in Any Recognized Board in India.

For More Details Read the Notification.

 Steward

 Hygienist
Indian Navy Agnipath Agniveer Recruitment 02/2023 Physical Eligibility Details
Navy Agniveer Height: 157 Cms for Male & 152 cms for Female
Squats (Uthak Baihtak) Details :

Male : 20 Times.
Female : 15 Times.

Navy Agniveer MR Running Details.

Male : 1.6 KM Running in 06 Min 30 Second.
Female : 1.6 KM Running in 08 Minutes.

Pushup Only for Male : 12 Times
Bent Knee Sit-Ups Only for Female : 10 Times.
IMPORTANT LINKS

Apply Online

Download Notification

Official Website

Join Telegram Channel 

Download Android App
How To Fill Indian Navy MR 02/2023 Batch Application Form
To fill the application form for Navy MR (Matric Recruit) 02/2023, you can follow the general guidelines provided below. Please note that these instructions are based on the general application process for Navy MR and may vary slightly depending on any updates or changes made by the Indian Navy. It's always best to refer to the official notification and instructions provided by the Navy. Here are the steps to fill the application form:
Online Registration: Visit the official website of the Indian Navy

(joinindiannavy.gov.in)

and navigate to the "Current Opportunities" or "Recruitment" section. Look for the MR 02/2023 notification and click on it. This will take you to the registration page. Fill in the required details such as personal information, contact details, and educational qualifications.
Aadhaar Card: Provide your Aadhaar Card number or Enrollment ID during the registration process. Ensure that the details on your Aadhaar Card match the information you provide in the application form.
Eligibility Criteria: Make sure you meet the eligibility criteria for Navy MR 02/2023. This typically includes age limits, educational qualifications (10th pass), and physical standards. Read the notification carefully to confirm your eligibility.
Document Upload: Scan and upload the necessary documents as mentioned in the application form. These may include your recent photograph, signature, 10th mark sheet, domicile certificate, and any other required documents. Follow the prescribed format and size limits for each document.
Review and Submit: Double-check all the information you have entered in the application form to ensure accuracy. Review the uploaded documents to make sure they are clear and legible. Once you are confident that everything is correct, submit the application form.
Print Application Form: After submitting the form, download and print a copy of the application form for your reference. Keep it safely as proof of submission and for future use.
Admit Card: Once the application deadline passes, the Navy will release the admit card for eligible candidates. Keep an eye on the official website or your registered email address for updates. Download and print the admit card when it becomes available.
Written Examination and Further Process: Prepare for the written examination according to the syllabus and exam pattern provided in the notification. If you qualify in the written exam, you will be called for further stages of the selection process, which may include a physical fitness test, medical examination, and an interview.
Remember to refer to the official Indian Navy website and the specific notification for NAVY MR 02/2023 for the most accurate and up-to-date instructions. If you have any specific queries or require further assistance, it's best to reach out to the Indian Navy's official recruitment department or helpline for clarification.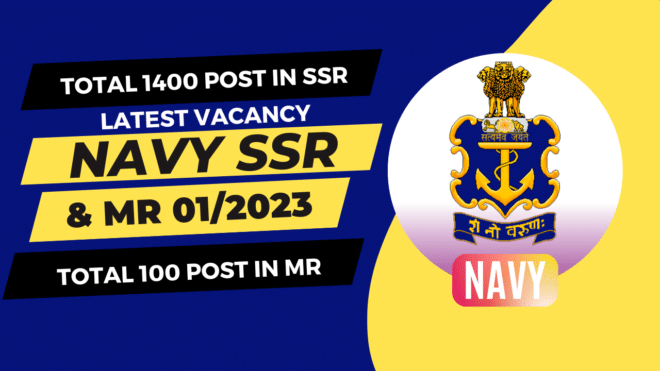 Disclaimer :
Government Job Online Website does not have any Connection with the Government and does not belongs to or Represents any Government Entity. The 
Examination Results / Marks printed on this web site is usually not one to be a legal document for searching for immediate information for the examination. While all efforts have been made to make the Information available on this Website as Authentic as possible. We are not responsible for any Inadvertent Error / Mistake that may have crept in the Examination Results / Marks being published in this Website nad for any loss to anybody or anything caused by any Shortcoming, Defect or Inaccuracy of the Information on this Website.