Publish Identify

Indian Navy Agniveer MR 2022 Admit Card

Publish Date

Post Date : 12 July 2022

Post Update Date : 27 September 2022

Publish Description

Join Indian Navy are invited to apply online application form for Navy MR (Chef), MR (Steward) and MR (Hygienist) under Nausena Bharti Agneepath scheme 2022-23 Indian Navy Agniveer MR 2022 Recruitment. Any youth whose come from any state/city in India can apply in this Navy MR Recruitment – 01/2022 BATCH (Indian Navy Agniveer MR 2022 Online Form).

Only unmarried male and unmarried female candidates are Eligible (who fulfil eligibility conditions as laid down by the Government of India) for enrolment as Navy Agniveer (MR) for 01/2022 (Dec 22) batch.Read the full notification before apply online.
Join Indian Navy Agnipath Agniveer Scheme


Indian Navy Agniveer Recruitment 2022

IMPORTANT DATES

Application Start : 25/07/2022
Last Date Apply Online: 01/08/2022 (Extended From 30/07/2022)
Admit Card Available :

 27/09/2022

Exam Date : 14 October 2022
Merit List: Available Soon
Training Start: December 2022

 

NOTE : Only Unmarried Male & Female Candidates Eligible For Navy Agniveer MR 2022 

APPLICATION FEE

Gen/OBC/EWS: NA/-
SC/ST: Rs. NA/-

No Need to Pay Any Application Fee Only Apply Online Indian Navy Agniveer MR 2022 Recruitment.

AGE LIMIT

Born Between : 01 December 1999 to 31 May 2005 (Both dates inclusive)
Vacancy Details Total Post : 200

Post Name – Agniveer (MR) for 01/2022 (Dec 22) batch

Post Name
Total Post
Eligibility

Agniveer (MR) for 01/2022 (Dec 22) batch

160 Male

Passed High School (10th) Exam Passed in Any Recognized Board in India.

For More Details Read Notification.

40 Female
Physical Standard For Navy MR Recruitment 2022

Height
Push-ups
Uthak Baithak
Running

157 CMS

12 Time

20 Times For Male

1.6 KM Run in 6:30 Minutes

152 CMS For Female

NA

15 Times For Female

1.6 KM Run in 8:0 Minutes For Female

Bent Knee Sit-Ups Only for Female : 10 Times.
Benefits of Agniveers Agnipath Scheme 2022

Years

In Hand

Monthly Package

30% Agniveer Corpus Fund

First

21,000/-

30,000/-

9,000/-

Second

23,100/-

33,000/-

9,900/-

Third

25,580/-

36,500/-

10,950/-

Fourth

28,000/-

40,000/-

12,000/-

Exit After 4 Year – Rs 11.71 Lakh as Seva Nidhi Package + Skill Gained Certificate.

Rs. 48 Lakh Life Insurance Cover.

Up to 25% will be enrolled in the regular cadre of the Armed Forces

Total Rs. 5.02 Lakh

Indian young people whose age is between 17.5 to 21 years can apply in this Agneepath scheme.
Agneepath will allow youth to serve in the armed forces for a period of 04 years.
The candidates who become Agniveer will get 10% reservation in recruitment in Assam Rifles after 4 years.

Uttar Pradesh (UP) / Madhya Pradesh (MP) and other states will also give preference to Agniveer in police department recruitment.

Leave: Annual : 30 Days, Sick Leave. Medical advice based.
LIC (LIfe Insurance): Agniveers will be provided life insurance cover of Rs. 48 Lakhs for the duration of their engagement period as Agniveers in the Indian Army.
Agniveer' Skill Certificate: A skill-set certificate will be given to Aginveer by the Indian Air Force after the completion of the time period.

Every year there will be some kind of benefit in this Agneepath scheme.
More Information About

Indian Navy Agniveer MR 2022 Online Form
Chef (MR)
You will be Required to Prepare Food as Per menu(vegetarian and non-vegetarian including Handling of Meat Products), and accounting of ration. In addition, you will also be trained in fire arms and will be allotted other Duties for Efficient running of organisation.
Steward (MR)
You would be Required to Serve food in the Officers Messes, as Waiters, Housekeeping, Accounting of funds, Wine and Stores, Preparation of menu etc. In addition, you will also be trained in fire arms and will be allotted other duties for efficient Running of organisation.
Sanitary Hygienist (MR)
They will be required to Maintain Hygiene in Wash-Rooms and other Areas. In Addition, you will also be trained in fire arms and will be allotted other duties for Efficient running of organisation
WORK ENVIRONMENT
Work Environment of these Branch Beside their Professional work, they have been trained for onboard ship about lookout duties as well as Small Arms Handling and trained for ship's Landing and boarding Parties also. They are involved in all the Activities which are conducted by a ship.
TRAINING AND ADVANCEMENT
Candidates Selected will Undergo 14(Fourteen) weeks Basic Training at INS Chilka Followed by Professional training in the Allotted Trade in various Naval Training Establishments. Branch/Trade will be Allocated as per the Requirement of Service.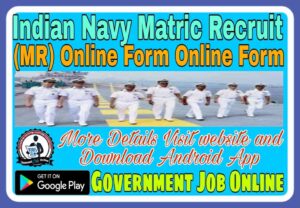 Disclaimer :
Government Job Online Website does not have any Connection with the Government and does not belongs to or Represents any Government Entity. The 
Examination Results / Marks printed on this web site is usually not one to be a legal document for searching for immediate information for the examination. While all efforts have been made to make the Information available on this Website as Authentic as possible. We are not responsible for any Inadvertent Error / Mistake that may have crept in the Examination Results / Marks being published in this Website nad for any loss to anybody or anything caused by any Shortcoming, Defect or Inaccuracy of the Information on this Website.