Publish Identify

Jharkhand Polytechnic Entrance Competitive Examination 2023

Publish Date

Post Date: 26 February 2023

Post Update Date: 27 February 2023

Publish Description

Jharkhand Polytechnic Admission 2023: Jharkhand Combined Entrance Competitive Examination Board (J.C.E.C.E.B) are invited to apply online application form for Jharkhand Polytechnic Entrance Competitive Examination 2023. JCECEB Polytechnic Entrance Exam 2023 will be held on 30 April 2023 Other information related to this recruitment like selection procedure, age limit, syllabus information is available in the notification (Jharkhand Polytechnic Entrance 2023).

Those Candidate Who Are Interested in Jharkhand Polytechnic course in the academic year 2023 – 2024 (1st Semester/Years). & Complete all Eligibility Criteria and want to appear in this recruitment can apply online from 27 February 2023 to 10 April 2023. Read the full notification before apply online.

Advt No.:- J.C.E.C.E.B /93/22-08
Jharkhand Combined Entrance Competitive Examination Board (J.C.E.C.E.B)
Jharkhand Polytechnic Entrance Competitive Examination 2023
IMPORTANT DATES
Notification Issued: 22/02/2023
Application Begin: 27/02/2023

Last Date Apply Online:

10/04/2023 

Last Date Pay Fee: 10/04/2023
Exam Date: 30 April 2023
Admit Card Out: 04 Days Before Exam
APPLICATION FEE
Gen/OBC/EWS: Rs. 650/-
SC/ST/All Female: Rs. 325/-
PH Candidate: Rs. 0/-

Pay the Exam Fee Via Online Debit Card, Credit Card, Net (Internet) Banking or E Challan Mode.
JCECEB Polytechnic Entrance Exam 2023 AGE LIMIT
Minimum Age: 17 Yrs (for Mining Engineering Branch)

There is no Minimum and Maximum Age Limit for any Other branch.

Age Relaxation as per Rule.


Age Limit as on 01/07/2023.
Jharkhand PECE – 2023 ELIGIBILITY
Applicants who fall in the category of permanent resident or local of Jharkhand state, only they will be considered eligible for enrollment in polytechnic institutes.

Passed in Secondary/10th /Equivalent Exam with at least 35 % marks.

Candidates appearing in secondary / 10th / equivalent examination 2023 can also apply, but it will be mandatory for them to pass before counselling.
Jharkhand Polytechnic Admission 2023 Important Documents
Passport size color photograph with face and both clearly visible ears.


Scanned Secondary/10th/Equivalent Exam Marksheet.

Signature of the candidate.

left hand thumb impression.

NOTE – On applying online, its print out is not to be sent to the council office.
Jharkhand Polytechnic 2023 Syllabus

(Total Que – 150 ,Time – 2:30 Hrs)




OMR Sheet Off Line Competition Exam Based on Objective Multiple Choice Question (MCQ).
There will be Negative Marking of 0.25 marks for Each Wrong Answer.

Subjects

No. Of Questions

Marks

 Physics

50

50

 Chemistry

50

50

 Mathematics

50

50

Total
150

150 Marks
Jharkhand PECE – 2023 Syllabus Details




Students Must Make a Preparation Calendar as per the Syllabus to avoid Missing Important Topics. JCECEB Jharkhand Polytechnic syllabus 2023 will include Class 10th Topics of Physics, Chemistry and Chemistry.

Find below the Section wise JCECEB Jharkhand Polytechnic syllabus 2023

 Mathematics
Chemistry 
Physics

Number System

Elements

Measurement

Time and Distance

Mixtures and Compounds

Kinetics

Rational Expressions

Molecular and Equivalent Masses

Laws of Motion

Logarithms

Group Elements

Work, Power and Energy

Linear Equations

Important Chemical Compounds

Kinetic Theory of Gases

Quadratic Equations

Electrochemistry

Heat and Thermal Expansion

Factorization

Acids, Bases, Salt and Hydrolysis

Thermodynamics

HCF and LCM

Catalysis

Rotatory Motion of a Rigid Body

Sets

Different Chemical Reactions

Gravitation

Time and Work

Periodic Classification of Elements

Simple Harmonic Motion

Simple Interest and Compound Interest

Laws of Chemical Combination and Gas Laws

Hydrostatics

Banking

Atomic Structure

Reflection of Light

Taxation

Valency

Refraction of Light

Relations and Functions

Concept of Atomic

Optical Instruments

Trigonometric Rations and Identities

Hydrocarbons

Electrostatics

Trigonometrical Formula

Polymers

Current Electricity

Statistics

Detergents, Drugs and Explosives

Transmission of Heat

Geometry

 

Wave Motion

Heights and Distances

 

Electromagnetism

Area, Volume and Surface Area

 

Electromagnetic Induction
Exam Centre For JCECEB Polytechnic Entrance Exam 2023

Choose at least 2 Exam Centers

Ranchi

Bokaro

Jamshedpur

Chaibasa

Hazaribagh

Palamu

Dumka

Dhanbad
IMPORTANT LINKS

Apply Online

Candidate Login

Download Notification

Official Website

Join Telegram Channel 

Download Android App
Polytechnic Institutes in Jharkhand
Government Institutes For Jharkhand Polytechnic
Government Polytechnic, Ranchi

Government Women's Polytechnic, Ranchi

Government Women's Polytechnic, Dumka

Government Polytechnic, Dumka

Government Polytechnic, Simdega

Government Polytechnic, Bhaga, Dhanbad

Government Polytechnic Nirsa , Dhanbad

Government Polytechnic, Dhanbad

Government Polytechnic, Jagannathpur

Government Polytechnic, Sahibganj

Government Polytechnic, Adityapur

Government Polytechnic, Kharsawan

Government Polytechnic, Koderma

Government Polytechnic, Latehar

Government Polytechnic, Khutri, Bokaro

Government Women's Polytechnic, Bokaro

Government Women's Polytechnic, Jamshedpur
PPP Mode Institutes
Baharagora Polytechnic , Baharagora

Garhwa, Polytechnic , Garhwa

Chandil Polytechnic, Chandil

Garhwa, Polytechnic , Garhwa

Pakur Polytechnic (Estd. by Govt. of Jharkhand & run by Bhubaneshwar Poly. & Cybotech Campus Under PPP)

Gola Polytechnic, Gola

Silli Polytechnic, (Estd. by Govt. of Jharkhand & run by Techno India Under PPP)
Private Institutes
Birsa Institute of Tecnnology(Trust), Ranchi

Centre for Bioinformatics , Ranchi

Nilai Educational Trust's Group Of Institutions, Ranchi

RTC Institute Of Technology, Ranchi

Vidya Memorial Institute Of Technology, Ranchi

Xavier Institute Of Polytechnic And Technology, Ranchi

Sarojini Institute Of Technology, Bundu Ranchi

Cambridge Institute Of Polytechnic, Tatisilwai Ranchi

Pemiya Rishikesh Institute of Technology , Topchanchi

Girija Institute of Polytechnic,Ramgarh

Subhas Institute of Technology , Giridih

Khandoli Institute Of Technology , Giridih

Ramgovind Polytechnic Institute, Koderma

Ramchandra Chandravansi Polytechnic Institute, Palamu

K.K. College of Engineering & Management, Dhanbad

K K Polytechnic, Govindpur, Dhanbad

Al Kabir Polytechnic , Mango, Jamshedpur
Jharkhand Polytechnic Courses
Diploma in Electrical Engineering

Diploma in Mechanical Engineering

Diploma in Electronics Engineering

Diploma in Automobile Engineering

Diploma in Computer Science Engineering

Diploma in IT Engineering

Diploma in Elecronical and Telecommunication Engineering

Diploma in Civil Engineering

Diploma in Mining Engineering

Diploma in Chemical Engineerin

Diploma in IC Engineering

Diploma in EC Engineering

Diploma in Petroleum Engineering

Diploma in Aeronautical Engineering

Diploma in Aerospace Engineering

Diploma in Biotechnology Engineering

Diploma in Genetic Engineering

Diploma in Plastics Engineering

Diplolma in Food Processing and Technology

Diploma in Agricultural Engineering

Diploma in Dairy Technology and Engineering

Diploma in Environmental Engineering

Agricultural Information Technology

Diploma in Power Engineering

Diploma in Production Engineering

Diploma in Infrastructure Engineering

Diploma in Motorsport Engineering

Diploma in Metallurgy Engineering

Diploma in Textile Engineering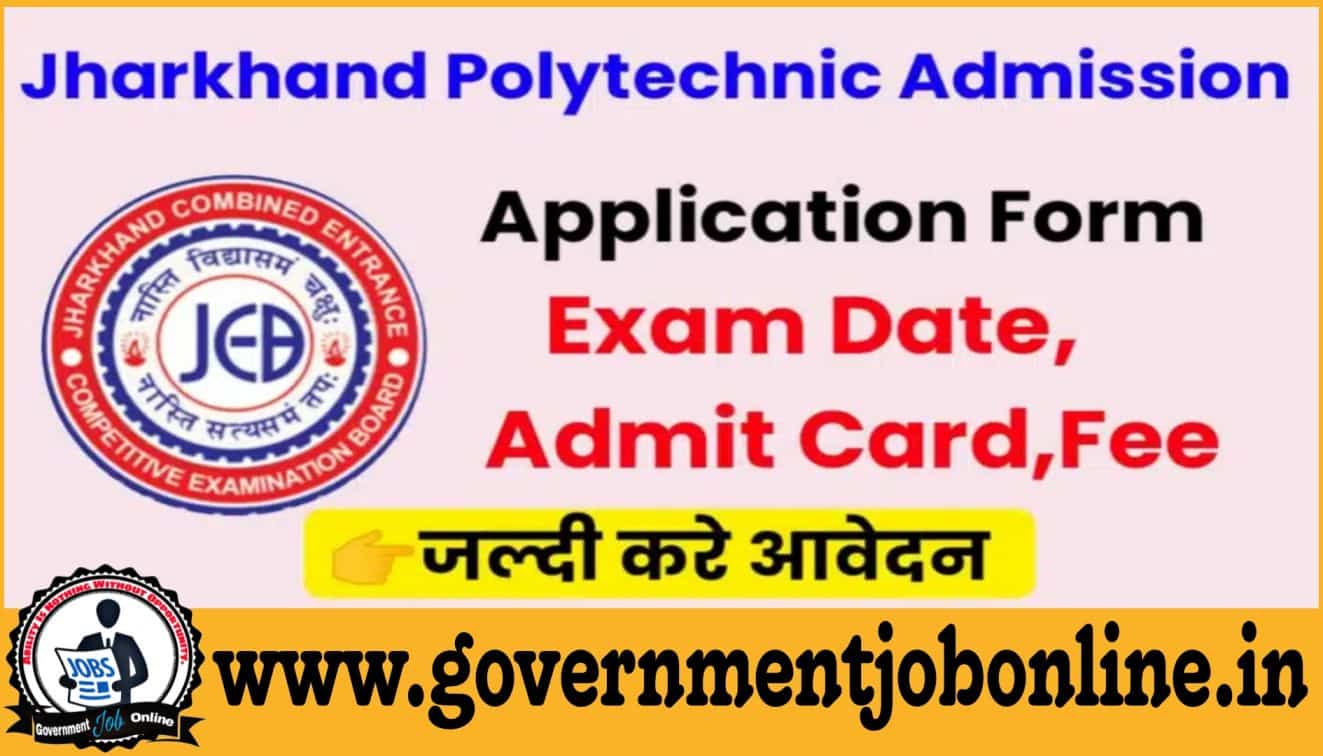 1.

How Can Apply Jharkhand Polytechnic 2023?

If you're looking to apply for the JCECEB Polytechnic Entrance Competitive Examination for 2023, you can follow these simple steps to complete your application process:

Step 1: Begin by visiting the official website of JCECEB at http://jceceb.jharkhand.gov.in/.

Step 2: Once you're on the website, click on the "Online Application Submission - JCECEB 2023" option.

Step 3: Next, select the "Online Form Polytechnic Entrance Competitive Examination - 2023 (P.E.C.E.)" option.

Step 4: Fill in your personal details and create your login credentials as required by the form.

Step 5: Use your user ID and password to login to your account.

Step 6: Once you're logged in, fill in all the required information accurately and completely.

Step 7: Upload a recent passport-size photograph, your signature, and any other relevant documents as instructed on the form.

Step 8: Review your form carefully and submit it when you're satisfied with all the information provided.

Step 9: Pay the application fee as specified and print your fee receipt for your records.

Step 10: Finally, print out your application form and keep it safely for future reference.

By following these steps, you can successfully apply for the JCECEB Polytechnic Entrance Competitive Examination for 2023 with ease. Make sure you double-check all the details and information you provide to ensure your application is accurate and complete. Good luck with your application!

2.

J.C.E.C.E.B. Contact Address ?

Jharkhand Combined Entrance Competitive Examination Board
Science & Technology Campus, Sirkha Toli,
Namkum-Tupudana Road Namkum,
Ranchi [Jharkhand] – 834010
Phone : +91-9264473891, 9264473893
e-mail: [email protected]

3.

What is polytechnic and what is taught in it?

Polytechnic is a diploma course which is made up of two words Poly Poly and technic technic, Poly means many and technic means technology, in which the following subjects are taught Diploma in Computer Science and Engineering, Diploma in Civil Engineering, Diploma in Electrical Engineering etc. And so on.
Disclaimer :
Government Job Online Website does not have any Connection with the Government and does not belongs to or Represents any Government Entity. The 
Examination Results / Marks printed on this web site is usually not one to be a legal document for searching for immediate information for the examination. While all efforts have been made to make the Information available on this Website as Authentic as possible. We are not responsible for any Inadvertent Error / Mistake that may have crept in the Examination Results / Marks being published in this Website nad for any loss to anybody or anything caused by any Shortcoming, Defect or Inaccuracy of the Information on this Website.