Publish Identify

Jharkhand Giridih Home Guard Recruitment 2023 Offline Form

Publish Date

Post Date: 05 March 2023

Post Update Date: 05 March 2023

Publish Description

Jharkhand Home Guards Recruitment 2023: Jharkhand Home Guards, Giridih are invited to apply Offline application form for Enrollment in Home Guards (Rural & Urban) and Application Form from District Commandant. Other information related to this recruitment like selection procedure, pay scale, age limit, syllabus information is available in the notification (Jharkhand Giridih District Home Guard Application Form 2023).

Those Candidate Who Are Interested in Jharkhand Giridih District Home Guard Recruitment 2023 & Complete all Eligibility Criteria and want to appear in this recruitment can apply online from 20 March 2023 to 04 April 2023. Read the full notification before apply online.

Advt No. : 01/2023
Jharkhand Home Guards, Giridih
Jharkhand Giridih Home Guard Recruitment 2023
IMPORTANT DATES
Application Begin: 20/03/2023

Last Date Send Form:

04/04/2023 

Exam Date: Notified Soon
Admit Card Date: 25 March – 09 April 2023 (10:00 AM to 3:00 PM Working Days) Received From झारखण्ड गृह रक्षा वाहिनी कार्यालय,
चैताडीह, गिरिडीह
APPLICATION FEE
Gen/OBC: Rs. NA/-
SC/ST/PH: Rs. NA/-
All Category Female: Rs. NA/-

Fee Details Not Mention in Notification.
Jharkhand Giridih Home Guard 2023 AGE LIMIT
Minimum Age: 19 Years
Maximum Age: 40 Years
Age limit as on 01/01/2023

(For Both Gramin & Shahariy)

Age Relaxation Extra as per Rules.
Vacancy Details Total Post : 708

Post Name
Block Name
Total
Education Qualification

Rural Home Guard

Dumari

32

Sariya

97

Tisari

45

Bagodar

93

Bengabad

49

Pirtad

45

Birani

26

Dhanvar

58

Gandey

62

Giridih (Gramin)

26

Urban Home Guard

Giridih (Shahriy)

175

Passed 10th (High School) Exam.

50 % Seat Reservation For Female Candidates
GIRIDIH Jila Home Guard Bharti 2023 Physical Standard

Details
Male (Gen / OBC)
Male (SC/ST)
Female (All)
Height

162 CMS

157 CMS

148 CMS

Chest

79 CMS

76 CMS

NA

Running

01 Mile 05 Minutes

01 Mile 08 Min

High Jump

04 Feet

03 Feet

Shotput

16 Pound 16 Feet

10 Pound 10 Feet

Application Form Send Address

जिला समादेष्टा,
झारखण्ड गृह रक्षा वाहिनी कार्यालय,
चैताडीह, गिरिडीह
पिन कोड – 815302
Important Document
Giridih Home Guard Recruitment 2023
It is mandatory to attach the following possible documents with the application.
Residential certificate 

Age proof (Birth certificate or 7th TC or 10th Marksheet or other document having birth number mentioned on it)

Caste Certificate (for the benefit of reservation)

Education Qualification Certificate

Other Technical Certificate
NOTE : –
ग्रामीण गृह रक्षक : अभ्यर्थी को गिरिडीह जिला के उस प्रखंड का स्थाई निवासी होना चाहिए जहां से ग्रामीण गृह रक्षक के रूप में नामांकन के लिए ऑनलाइन आवेदन करेंगे.
शहरी गृह रक्षक : अभ्यार्थी को गिरिडीह जिला के उस शहरी क्षेत्र (गिरिडीह (शहरी)) का सामान्य निवासी होना चाहिए.
Selection Procedure
Here is the selection given below. Candidate must be passed in all the exams.
Physical Test Examination

Hindi writing ability examination

Technical Ability Exams.

More Details Read Notification
IMPORTANT LINKS

Download Application Form

Download Notification

Download Syllabus

Official Website

Join Telegram Channel 

Download Android App
How To Apply Giridih Home Guard Vacancy 2023?
अभ्यर्थी आवेदन केवल ऑफलाइन माध्यम से 20 मार्च से 04 अप्रैल तक निबंधित डाक से स्वीकार किये जायेगा. निचे ऑफलाइन आवेदन करने का स्टेप बताया गया है.
सबसे पहले गिरिडीह होम गार्ड Application Form (ग्रामीण या शहरी) को डाउनलोड करे. (डायरेक्ट लिंक ऊपर दिया गया है)
 

उसके बाद फॉर्म को पूर्णरूप से सही-सही भरकर सभी आवश्यक दस्तावेज को संलग्न करके निचे दिए गए पते पर हाथों हाथ या निबंधित डाक/स्पीड पोस्ट के माध्यम स भेज सकते है.

आवेदन भेजने का पता:- जिला समादेष्टा, झारखण्ड गृह रक्षा वाहिनी कार्यालय, चैताडीह, गिरिडीह, पिन कोड- 815302
आवश्यक निर्देश:
निबंधित डाक/स्पीड पोस्ट से आवेदन करने वाले अभ्यर्थी लिफाफे के उपर विज्ञापन संख्या तथा आवेदित पद का नाम- ग्रामीण गृह रक्षक, प्रखंड ……………/शहरी गृह रक्षक, गैर तकनीकि/तकनीकि दक्ष अवश्य लिखे.

अभ्यर्थी पावती रसीद या एडमिट कार्ड 25 मार्च 2023 से 9 अप्रैल 2023 तक प्रत्येक कार्य दिवस को जिला समादेष्टा, झारखण्ड गृह रक्षा वाहिनी कार्यालय, चैताडीह, गिरिडीह, पिन कोड- 815302 से 10:00 से 3:00 बजे तक प्राप्त करेंगे।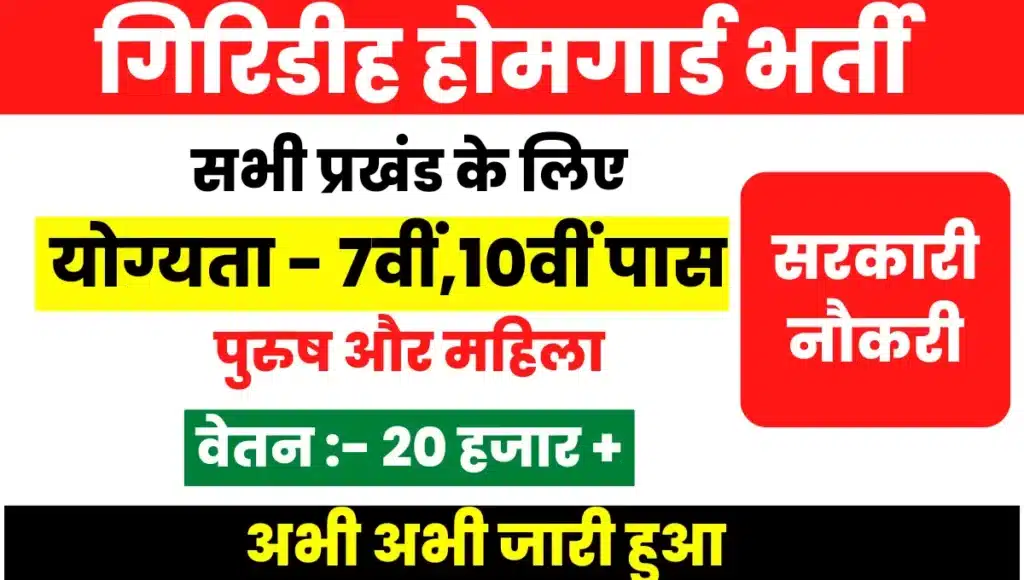 Disclaimer :
Government Job Online Website does not have any Connection with the Government and does not belongs to or Represents any Government Entity. The 
Examination Results / Marks printed on this web site is usually not one to be a legal document for searching for immediate information for the examination. While all efforts have been made to make the Information available on this Website as Authentic as possible. We are not responsible for any Inadvertent Error / Mistake that may have crept in the Examination Results / Marks being published in this Website nad for any loss to anybody or anything caused by any Shortcoming, Defect or Inaccuracy of the Information on this Website.