Publish Identify

Jharkhand Board JAC Result 2023 For Class 08th to 12th Result Declared

Publish Date

Post Date: 20 May 2023

Post Update Date: 06 June 2023

Publish Description

Jharkhand Board Result 2023: Jharkhand Academic Council (JAC), Ranchi Are Currently Released Result For JAC Class 08th, 09th, 10th, 11th & 12th Exam Result 2023. JAC Class 12th Science Result 2023|JAC 12th Commerce Result 2023 | JAC 12th Arts Result 2023 | JAC 10th Result 2023 (JAC Matric And Intermediate Annual Board Result 2023).

Those Candidates who Participated in this examination can download their Results for Class 9th, 10th, 11th, and 12th in PDF. Marksheet through a direct link from this page.

Jharkhand Board Result 2023 | JAC Result 2023 | JAC Jharkhand Result 2023
Jharkhand Academic Council (JAC), Ranchi
Jharkhand Board Exam Result 2023 For Class 08th to 12th Exam
IMPORTANT DATES
JAC Board Class 10th Exam Date
Examination Start: 14 March 2023
Last Date Of Exam: 03 April 2023
Admit Card Download: 28 January 2023 

(Only Download School Login Id)

Practical Exam & Internal Assessment: 07 February to 04 March 2023 (By Your School Where Your Admission.)
Result Available: Between 23 May 2023
JAC Board Class 12th Exam Date
Examination Start: 14 March 2023
Last Date Of Exam: 05 April 2023
Admit Card Download: 30 January 2023 (Only Download School Login Id)
Practical Exam & Internal Assessment: 07 February to 04 March 2023 (By Your School Where Your Admission.)
Result Available: Between 23 May 2023 (Science Streame)
Result Available: Between 30 May 2023 (Arts Streame)
Result Available: Between 30 May 2023 (Commerce Streame)
Result Important Dates

Class 8th Published

04 June 2023

Class 9th Published

07 June 2023

Class 11th Publish On

2nd Week Of July 2023

Class 10th Published

23 May 2023

Class 12th Published

23-30 May 2023
Grading Scale For JAC Result

Range of marks

Grades

Description

80 % and Above

A+

Excellent

60 % to 80 %

A

Very good

45% to 60 %

B

Good

33 % to 45 %

C

Average

Below 33 %

D

Marginal
IMPORTANT LINKS

Download Class 11th Result

Check Result Updates

Download Class 09th Result 

Download Class 08th Result

Download Class 12th Commerce Result

Declared

Download Class 12th Arts Result Declared

Download Class 10th Result Declared

Download Class 12th Science Result Declared

More Details 

Official Website

Join Telegram Channel 

Download Android App
How to Check Jharkhand Board Result 2023
To check the Jharkhand Board Result 2023, you can follow the steps below:
Visit the official website: Go to the official website of the Jharkhand Academic Council (JAC) at https://jac.jharkhand.gov.in/.
Look for the "Results" section: On the homepage of the website, search for the "Results" or "Result 2023" section. It is usually located on the top menu bar or the main page itself.
Select the relevant exam: In the results section, you will find various examination options. Choose the appropriate one for the exam you appeared for in 2023. For example, if you appeared for the Jharkhand Board Class 10th exam, select the "Class 10th Result 2023" option.
Provide required details: Once you select the relevant exam, you will be redirected to a new page where you need to enter the required details. This may include your roll number, registration number, date of birth, or any other information as specified.
Submit and view the result: After entering the necessary details, double-check them for accuracy and click on the "Submit" or "View Result" button.
Check your result: The Jharkhand Board Result 2023 will be displayed on your screen. You can view your marks, grades, and other relevant information. Make sure to save or print a copy of your result for future reference.
Get the original mark sheet: The online result should be considered provisional until you receive the official mark sheet from your school or educational institution. Contact your school authorities to collect the original mark sheet and other necessary documents.
Note: In case you encounter any difficulties or if the result is not available online, it is advisable to contact the Jharkhand Academic Council (JAC) or your school for further assistance.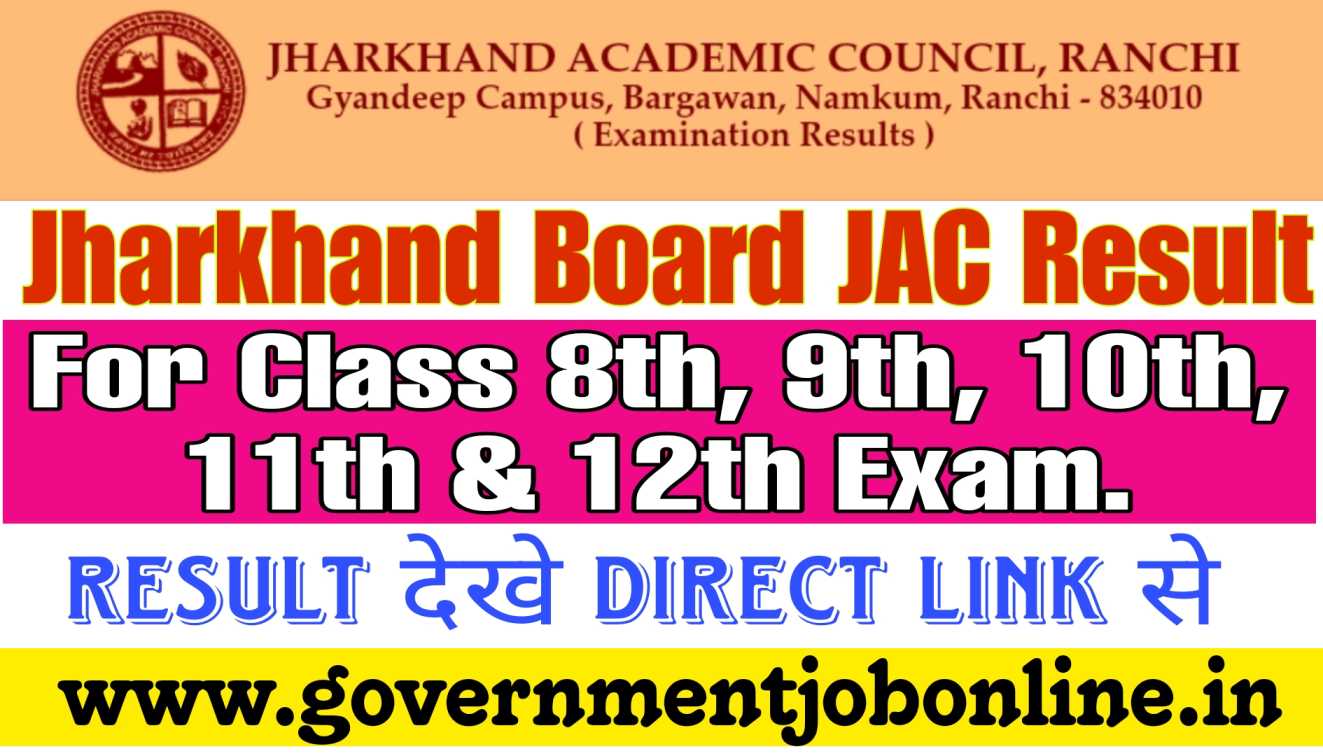 Disclaimer :
Government Job Online Website does not have any Connection with the Government and does not belongs to or Represents any Government Entity. The 
Examination Results / Marks printed on this web site is usually not one to be a legal document for searching for immediate information for the examination. While all efforts have been made to make the Information available on this Website as Authentic as possible. We are not responsible for any Inadvertent Error / Mistake that may have crept in the Examination Results / Marks being published in this Website nad for any loss to anybody or anything caused by any Shortcoming, Defect or Inaccuracy of the Information on this Website.