Publish Identify

CBSE Exam Date Sheet 2023 For Class 10th & 12th, Admit Card

Publish Date

Post Date: 29 December 2022

Post Update Date: 08 Feb 2023

Publish Description

CBSE Time Table 2023: Central Board Of Secondary Education (CBSE) are Currently Released Class 10th and 12th Exam Date Sheet 2023 for CBSE Board Xth High School and XIIth Intermediate Exam Date Sheet 2023. (CBSE Exam Date Sheet 2023 For Class 10th & 12th).

Those Candidate Who Are registered in the Central Board CBSE Annual Board Exam 2023 to be held this year can check their exam date from here, you can know that on which day your paper will be. CBSE Board Time Table 2023

CBSE Board Exam 2023 Date Sheet |CBSE Board Exam Date Sheet 2023
Central Board of Secondary Education (CBSE)
CBSE Board Class Xth and Class XIIth Exam Time Table 2023
IMPORTANT DATES
CBSE Time Table Issue: 29/12/2022

Class 10th High School Exam Between:

15/02/2023 to 21/03/2023

Class 12th Intermediate Exam Between : 15/02/2023 to 05/04/2023

Practical Exam Start : 01 January 2023

Admit Card Out: 08 Feb 2023
APPLICATION FEE
No Application Fee for the Downloading CBSE Board Class X & XII Exam 2023 Time Table / Exam Schedule / Date Sheet.
CBSE Exam Date Sheet 2023 Other Details
Board Name : CBSE Board

Exam Time : 10:30 AM- 01:30 PM

Exam Mode : Offline Mode


Admit Card : Issued By School.
CBSE Board Exam 2023 Circular Notice
CBSE, is releasing the date sheet for both the classes X & XI of Board's Examinations, 2023. While preparing the date sheet, the Board has taken care of the following issues :

 

Sufficient Gap has been given in between two subjects generally offered by a student both the classes.

Competitive examinations, including JEE Main have been taken care o f while preparing the date sheet for Class XII.

These date sheets have been prepared by avoiding nearly 40,000 subjects' combinations to ensure that no two subiects' examinations of a students fall




on the same date.

The time of the start of the examination will be at 10:30 AM (IST).




Date-sheet is issued much in advance so that students can prepare well for




their examinations.

The CBSE wishes Good Luck to all the students appearing in Class X & Class XI Examinations, 2023.
How To Check CBSE Exam Date Sheet 2023
Firstly Open the Page And Scroll Below Page.

After That Click on Link If Students Class 10th Then you Click Class 10th Section.

If You Students Of Class 12th Then Click on Class 12th section.

After Click on Link You Can Got A PDF Of Date Sheet.

Check Your CBSE Time Table 2023 | CBSE Class Xth & XIIth Date Sheet 2023
IMPORTANT LINKS

Download Admit Card

Download Date Sheet 2023

Download CBSE Date Sheet 2023

Download CBSE Practical Exam Sheet 2023

Official Website

Join Telegram Channel 

Download Android App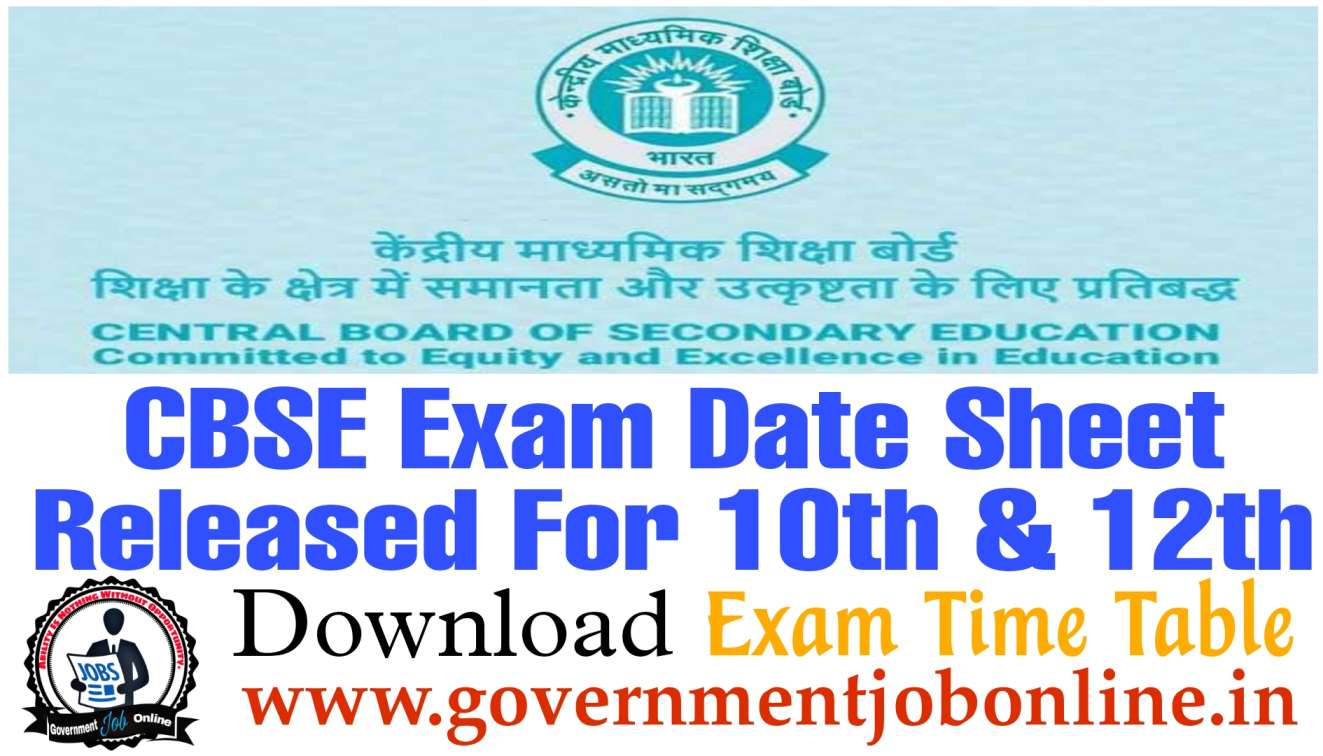 Disclaimer :
Government Job Online Website does not have any Connection with the Government and does not belongs to or Represents any Government Entity. The 
Examination Results / Marks printed on this web site is usually not one to be a legal document for searching for immediate information for the examination. While all efforts have been made to make the Information available on this Website as Authentic as possible. We are not responsible for any Inadvertent Error / Mistake that may have crept in the Examination Results / Marks being published in this Website nad for any loss to anybody or anything caused by any Shortcoming, Defect or Inaccuracy of the Information on this Website.