Publish Identify

Bihar Scholarship Post Matric Online Form 2022 – 23

Publish Date

Post Date: 27 January 2023

Post Update Date: 27 January 2023

Publish Description

Bihar Post Matric Scholarship 2023: Government of Bihar are invited to apply online application form for Bihar Post Matric Scholarship for BC / EBC category, and SC / ST Category Students for Academic Year 2022-23. through pmsonline portal (www.pmsonline.bih.nic.in). Other information related to this Scheme like Eligibility Criteria, Last Date information is available in the notification (Bihar Scholarship 2023 Online Form).

Those Candidate Who Are Interested in Bihar post matric Scholarship for SC & ST and Bihar Mukhyamantri Postmatric Scholarship Scheme for SC & ST category for Academic Session 2022-23 & Complete all Eligibility Criteria and want to Enrolled This Scheme can Apply Online Mode, Read the full notification before apply online.
Government of Bihar
Bihar Post Matric Scholarship Online Form 2022-23
IMPORTANT DATES
(Post Matric (SC & ST)
Application Begin: 05 November 2023

Last Date Apply Online:

31 January 2023
(Post Matric (BC & EBC)
Application Begin: Available Soon

Last Date Apply Online:

Available Soon
APPLICATION FEE
Application Fee – Rs. 0/-

No Need to Any Application Fee For Any Candidates Only Apply Online Bihar Scholarship Online 2022 – 23.

(नोट : Bihar Scholarship फॉर्म भरवाने का कोई भी पैसा नहीं लेती है, इसका फॉर्म बिल्कुल Free होता है|)
Bihar Scholarship Eligibility (योग्यता)
आवेदक को बिहार राज्य के स्थायी निवासी होना चाहिए।

आवेदक की जाति राज्य सरकार द्वारा निर्गत पिछड़ा वर्ग एवं अति पिछड़ा वर्ग तथा अनुसूचित जाति एवं अनुसूचित जनजाति की सूची में सम्मिलित हो। (छात्र SC/ST/OBC Category का होना चाहिए)|

प्रवेशिकोत्तर छात्रवृत्ति योजना के अन्तर्गत मैट्रिक / प्रवेशिका परीक्षा उत्तीर्ण करने के बाद उच्चतर कक्षाओं में अध्ययनरत् छात्र / छात्रा ही छात्रवृत्ति के लिए आवेदन कर सकते है।

अनसुचित जाति\अनुसूचित जनजाति वित्तीय वर्ष 2019-20, 2020-21 के लिए छात्र के अभिभावक की आय आय 02.50 लाख से अधिक नहीं होनी चाहिए |

अनसुचित जाति\अनुसूचित जनजाति वित्तीय वर्ष 2022-23 के लिए छात्र के अभिभावक की आय आय 03 लाख से अधिक नहीं होनी चाहिए |

वित्तीय वर्ष 2019-20 के लिए पिछड़ा वर्ग छात्र के अभिभावक की आय 01.50 लाख से अधिक नहीं होनी चाहिए |

अन्यंत पिछड़ा वर्ग वित्तीय वर्ष 2020-21 के लिए छात्र के अभिभावक की आय 02.50 लाख से अधिक नहीं होनी चाहिए |

वित्तीय वर्ष 2021-22 के लिए छात्र के अभिभावक की आय 03 लाख से अधिक नहीं होनी चाहिए |


एक स्तर का कोर्स उत्तीर्ण करने के बाद दूसरे समकक्ष कोर्स में अध्ययन करने पर छात्रवृत्ति के हकदार नहीं होंगे, यथा- I.Sc. की परीक्षा उत्तीर्ण करने के बाद I.A., B.A. की परीक्षा उत्तीर्ण करने के बाद B.Com. एवं M.Sc. करने के बाद M.A कक्षा में अध्ययन करने पर छात्रवृत्ति नहीं दी जायेगी।

पिछड़ा वर्ग एवं अति पिछड़ा वर्ग में आवेदक के माता-पिता के मात्र 02 (दो) पुत्रों को ही प्रवेशिकोत्तर छात्रवृत्ति प्रदान की जायेगी। यह नियम पुत्रियों पर लागू नहीं होगा, किन्तु अनुसूचित जाति एवं अनुसूचित जनजाति में यह नियम लागू नहीं होगा ।
Document Required
The documents required to apply for a scholarship for backward classes and economically backward classes include:
Student Aadhaar Card

Student Photograph

Bonafide Certificate from institution

Fee Receipt from institution

Income Certificate (latest)

Residence Certificate

Caste Certificate

Previous Degree Passing Certificate

Previous Year Mark Sheet




It's worth noting that these requirements may vary depending on the specific scholarship or program you're applying for, and that you should check with the organization offering the scholarship to confirm the specific documents they require.
IMPORTANT LINKS

Apply Online (SC / ST Only)

Applicant Login (SC / ST Only)

Apply Online (BC / EBC Only)

Available Soon

Download Notification

Official Website

Join Telegram Channel 

Download Android App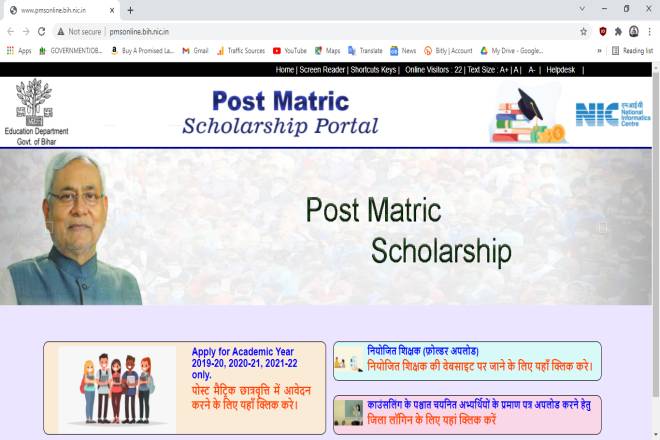 1.

What is Scholarship?

A scholarship is a form of financial aid that is awarded to a student to help pay for their education. Scholarships are typically awarded based on academic merit, financial need, or a combination of both. Some scholarships are awarded by the government, while others are offered by private organizations, such as corporations, foundations, or non-profits. Scholarships may be used to cover the cost of tuition, books, and other education-related expenses. Some scholarships may also include a stipend to help cover living expenses. Scholarships can vary in size and may be awarded for a specific period of time, such as one year, or for the duration of a student's education.

2.

Bihar Scholarship Contact Address?

Mobile Number:- +91-9534547098, +91-8862998668, +91-9999597490, +91-9709951912
Email Id:- [email protected]
Disclaimer :
Government Job Online Website does not have any Connection with the Government and does not belongs to or Represents any Government Entity. The 
Examination Results / Marks printed on this web site is usually not one to be a legal document for searching for immediate information for the examination. While all efforts have been made to make the Information available on this Website as Authentic as possible. We are not responsible for any Inadvertent Error / Mistake that may have crept in the Examination Results / Marks being published in this Website nad for any loss to anybody or anything caused by any Shortcoming, Defect or Inaccuracy of the Information on this Website.